Dubai, known for its sprawling skyscrapers and luxurious lifestyle, offers various financial solutions to its residents. One such option is a loan against propert. Whether you're a seasoned investor or just stepping into the property realm, understanding the intricate details of this loan type is crucial. In this guide, we'll delve deep into the nuances of how the buying process works for such loans in this Emirati city.
What is a Loan Against Property?
"Loan Against Property" is a secured loan that leverages property as collateral to secure financing. Offered by various institutions in Dubai, it can be obtained against residential, commercial, or industrial properties. These loans generally offer larger amounts and lower interest rates compared to unsecured loans. Eligibility is based on credit score, proper documentation, and repayment capacity. Loan Against Property is ideal for those needing substantial amounts with lower interest rates and longer repayment terms.
Benefits of Loan Against Property
A loan against property in Dubai offers numerous benefits to borrowers.
A key advantage is the low interest rate associated with this type of loan due to property security, which can lead to significant savings over the repayment period.
One of the main advantages is the longer tenure offered for a loan against property. With repayment periods ranging from 5 to 15 years, borrowers have the flexibility of more affordable monthly repayments due to the extended tenure. This not only reduces the EMI (Equated Monthly Instalment) burden, but also allows borrowers to manage their finances more effectively.
These loans are easily attainable as they are backed by an asset, making them a suitable option for individuals with lower credit scores or self-employed individuals.
Loans against property usually come with long tenures ranging from 5 to 15 years. This extended period allows for more affordable monthly repayments, thus reducing the EMI burden and enabling effective financial management.
Types of Loans Against Property
In Dubai, property loans offer flexibility based on the borrower's needs. Mortgage loans are for property purchases, while residential property loans can be used for purposes like home renovations or debt consolidation. Commercial property loans provide funds for business expansion or investment opportunities. All these loans allow borrowers to leverage their property's value.
Home Loan (Mortgage)
Home loans, or mortgages, are a common way to finance property purchases in Dubai. To qualify, applicants need a good credit score, a steady income, and a low debt-to-income ratio backed by relevant documents. UAE nationals have several options, including buying existing property, building a home, or refinancing a mortgage. It's crucial to choose a reputable lender offering low-interest rates and beneficial deals. With appropriate eligibility and documentation, borrowers can use a mortgage to buy their dream home in Dubai.
Commercial Property Loan
Commercial property loans in the UAE assist businesses and individuals in buying or expanding commercial buildings, office spaces, warehouses, retail spaces, and industrial properties. The loan amount ranges from AED 1 million to AED 10 million or more, with a repayment term of 5 to 15 years. Interest rates, either fixed or variable, are determined by the borrower's creditworthiness, property type, and market conditions. Many UAE financial institutions also offer competitive property management rates for these properties, covering maintenance, rent collection, tenant management, and property marketing. Evaluating loan options, associated rates, and tenor is crucial due to the significant investment involved in commercial properties.
Business Loan Against Property
A unique financing option for entrepreneurs are "Business Loans Against Property" in Dubai This loan type offers high amounts, long repayment periods, and the ability to consolidate business debts. Eligibility depends on creditworthiness, business income, and legal property documentation. With its financial benefits and by meeting eligibility criteria, this loan type can significantly assist Dubai's business owners in propelling their businesses forward.
Personal Loan Against Property
Personal loans against property in Dubai serve as secured loans, enabling individuals to borrow against the value of their residential or commercial properties. Residential property loans cater to owners of residential properties and can finance home renovations, debt consolidation, education, or medical emergencies. Conversely, commercial property loans target commercial property owners, aiding in business expansion or investment.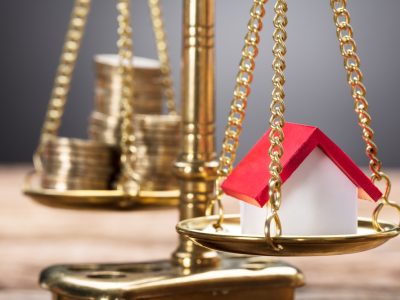 Eligibility Criteria for Loans Against Property in Dubai
Eligibility for a property loan in Dubai relies on the provision of collateral through local residential or commercial properties.
Age Requirement
For a property loan in Dubai, age is a deciding factor. Typically, individuals need to be 21 years or older to apply. Although the maximum age varies between lenders and loan types, it is generally around 65-70 years. Commercial loans may have higher age limits due to their large investments and long repayment periods. Approaching the maximum age limit can challenge approval due to lenders assessing repayment capabilities based on age and financial stability. Younger borrowers may enjoy lower interest rates and flexible terms. Thus, applicants should consider their age and financial situation before applying for a loan.


Credit Score/History Requirements
Applying for a property loan in Dubai requires careful consideration of credit score and history. Lenders typically favour borrowers with a credit score of 650 or above, as it reflects financial responsibility and debt repayment promptness. Additionally, a positive credit history, marked by punctual loan repayments and low credit utilization, can increase the chances of loan approval and enable negotiation for lower interest rates. Thus, maintaining a good credit score and history by paying bills on time, keeping credit utilization low, and clearing previous debts can make one a preferred candidate for a property loan in Dubai.


Income Requirements
To secure a property loan in Dubai, both salaried employees and self-employed individuals need to meet specific income prerequisites. Salaried employees should provide bank statements for up to six months showing stable income, a salary certificate, and a good credit score and history. Self-employed individuals are required to submit trade licenses, six months of bank statements and may also need to provide audited financial statements or income tax returns. Lenders consider the debt-to-income ratio to determine loan approval and develop repayment plans based on income and loan terms. Sufficient income and proper documentation increase the chances of loan approval.
Documentation Required to Apply for a Loan Against Property in Dubai
Personal Documents
Valid UAE residence visa and Emirates ID
Passport copy with a valid residence visa page
Proof of income (salary certificate or trade license)
Bank statements for the past six months
Property Documents
Title deed copy of the property to be mortgaged
Original sales and purchase agreement (for new properties)
Copy of the latest utility bill (electricity and water)
Building completion certificate
Valuation report from an approved evaluator
Floor plan of the property
Other Documents
Bank statements for existing loans or mortgages
Credit card statements (if any)
Self-employed individuals must provide additional documents, such as trade licenses, audited financial statements, and income tax returns.
For businesses, legal documents such as the Memorandum of Association may be required.
Conclusion

In conclusion, procuring a loan against property in Dubai involves a careful appraisal of your personal circumstances, financial stability, creditworthiness, and the value of the property in question. The process requires a clear understanding of the eligibility criteria, such as age, income, and credit history, as well as thorough preparation and submission of necessary personal, property, and financial documents.
At eMortgage, we are committed to helping you every step of the way. Our team of experts is always on hand to guide you through the loan process, ensuring that your experience is as seamless and straightforward as possible. We strive to simplify the complexities of procuring a loan against property and enable you to leverage your assets effectively. With eMortgage, your path to securing a loan against property in Dubai becomes significantly smoother and more manageable.